Employee giving and your brand: DoTopia Spotlight
Alongside recently connected with DoTopia, an awesome company that helps organizations empower their employees to give. We loved hearing about the 'DoDollars' concept, especially since Personalized Cause Marketing can really impact your employer brand as well as recruitment efforts. We wanted to learn more about them, so here's our interview with Sami Decker, Marketing Director for DoTopia.
What is DoTopia and how did it start?
We will make our commercial quick… DoTopia is a digital giving platform. Think of us like "The PayPal of giving". We developed an online platform that connects individuals to over 1.6 million charities. We work with HR, Corporate Social Responsibility and Marketing teams to create giving solutions and campaigns that inspire employees, foster customer loyalty and advance workplace values. Additionally, any individual is able to set-up their own Personal Giving Account and give to any charities they choose. Every user creates their own account, just like PayPal or Venmo, to manage their giving in one place. You can create giving goals, print off tax receipts, gift DoDollars, and add more funds with just a few clicks of your mouse. Our goal was to keep the process as easy as possible. We believe in more givers, giving more and that every gift matters.
Our story is simple, really. It started out with one guy and a passion – a passion for giving. An already successful entrepreneur, Billy Weisman, saw the need to create an easier, more personal way for people and companies to give. The result was DoTopia, a way to make giving to any organization digital and available to all.
What does Personalized Cause Marketing have to do with recruitment efforts?
Point blank, people want to work for an organization that cares about them as individuals. Next to art, giving is one of the most personal endeavors and is often a direct reflection of an individual's values. Every employer now provides paid time off, sick days, 401K plans, HSA's, volunteer days, but how many employers promote Personal Giving Accounts in their recruitment efforts? Just saying… promoting your company as both a purpose-led organization and one who "practices what they preach" (pardon my over-used cliche), is going to make a difference in today's world. It is just another tool to stand out on your "Careers Page". We consult with HR teams to determine a solution both for recruitment efforts as well as ways to incorporate DoDollars into their employee giving strategy.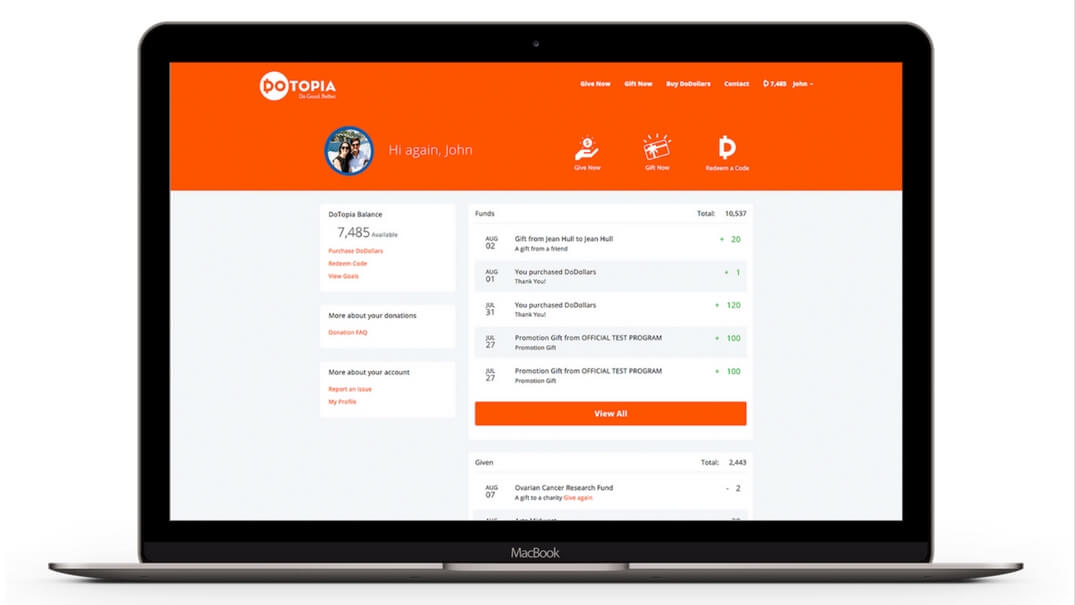 Tell us about this next generation of workers and why they are changing everything.
We love generational research. Though you cannot fit everyone in a pretty little box with a bow, research tells us a lot about workplace and consumer behavior. We already know Millennials care about social good. Millennials are expected to make up 50% of the workforce by 2020. Rather than spewing facts that you have already heard about Millennials, we want to help you get ahead of the game with the next generation, Gen Z. With the oldest Gen Zer at the ripe age of 22, they are about to take the workplace by storm (and not one of those bad storms…a nice summer storm). Our friends at Gen Z Guru have done a fantastic job highlighting some overall trends based on a large-scale survey and analysis of this group in their book. Additionally, we recently interviewed Gen Z Guru on our blog and here are some interesting things we learned:
More competitive and independent than Millennials who are very collaborative.

Prefers face to face communication most – even more than texting! (82% prefer face to face).

Willing to pay dues and start at the bottom. They are willing to stay at a company for more than 10 years. (71% said they will start at bottom).

Wants their own private workspace and does not like open office concept. (Only 8% liked open office concept).

This generation want to make a difference, but will want to make profits first. As they see it, the more money they make, the more money to give back.

Gen Z will be big supporters of social entrepreneurialism.

One of the key traits of this generation is "HYPER CUSTOM" – they want to personalize everything.

91% said technological sophistication would impact their desire to work at a company.

93% said a company's impact on society affects their decision to work there.
Read more: How to recruit job seekers looking for meaningful work
What if a company isn't already a "Purpose First" organization like a TOMS Shoes, Warby Parker, etc. How can they make small steps to realizing a brand culture where giving is prominent?
Great question! With this "Profit and Purpose" movement, it almost seems unfair to brands that have been around for years. How will they ever compete for employees against companies that have it woven into the fabric of their organization (think TOMS, Warby Parker, Airbnb)? We have a few ideas…
Clearly explain your brand purpose and how you aspire to make the world a better place to every prospective employee.

Every recruitment interaction needs to authentically reflect the company's purpose and values.

Include open-ended questions in employee interviews around giving. Ask them what they are passionate about outside the workplace.

Provide a benefit like Personal Giving Accounts and gift DoDollars (philanthropic dollars) to your employees. It shows you care about them on a much deeper, more personalized level. You believe in the causes they care about.

Make sure you are building a culture of "givers". Incorporate a

Workplace giving

solution that makes management of all giving activities easier.
We love stories! Please share some of the personal giving stories from your DoTopians.
We recently gave away $500 DoDollars to three of our DoTopians for sharing their giving stories. We love sharing how people are doing good…
"I volunteer with and donate to Puppy Rescue Mission, a non-profit that brings home the dogs and cats our troops adopt while they are serving in Afghanistan and other war zones. Our troops become very attached to these animals while serving and do not want to leave them behind. Because they are not US military working dogs, they cannot fly with them when their deployment is over, so PRM raises funds and coordinates medical care and transport to bring these animals home. Because most of PRM's fundraising is online, their overhead is low, so I know most, if not all, of my donations go directly to help the animals. It is a way I can say THANK YOU for your service in a unique and tangible way. I recently fostered two cats through PRM for a soldier until she finished her duty assignment. I picked them up at the airport, they were a joy to care for for a few weeks, then I sent them home to their soldier. As a graphic artist, I volunteer my time to create the PRM calendar, holiday cards, thank you cards, and more. Using my talents for good! All to say thank you and help our troops and the animals they love, and who love them unconditionally. No one left behind!"

"I donated my gift to the Boy Scouts of America. The money provided will help pay for many kids to attend scout camp over the summer. Camping helps campers develop self-reliance and resourcefulness and camp also contributes to social development. Camp uses the natural surroundings to contribute significantly to physical, mental, spiritual, and social growth."

"I recently started contributing to the music program at Southwest Virginia Community College. I have always believed that music has the power to change people's lives and this program does that for the members of the communities in Southwest Virginia. Before getting into financial services I actually was a music major at this institution and because of the work that the current professor did my life was forever changed. Growing up in an economically depressed area I never would have been able to experience places in the world such as New York City, Washington DC, Chicago, or Atlanta. The work that this program does for high school and college kids is simply amazing. In addition to the monetary donations I make each year I also chaperon clinics with them and I will never forget taking a group to Wilmington, North Carolina for a jazz clinic and taking a break from playing. We did lunch on the beach and one of the girls who had never been out of the area was amazed at her first viewing of the ocean and jumped in. Through the work of Dr. Joey Trivette at the school, that student who came from a single parent household with an income of around 20 thousand per year was able to achieve a full ride to the Shenandoah Conservatory of Music to study musical theater and performance. This work is so needed and every dollar I can earn to help support that school I will make it one of my philanthropic missions."
If you want to read more stories like these, check out their Humans of Giving E-Book. For more information on DoTopia and how to get started, check out their website here!