Blueboard's Rewarding, Experiential Culture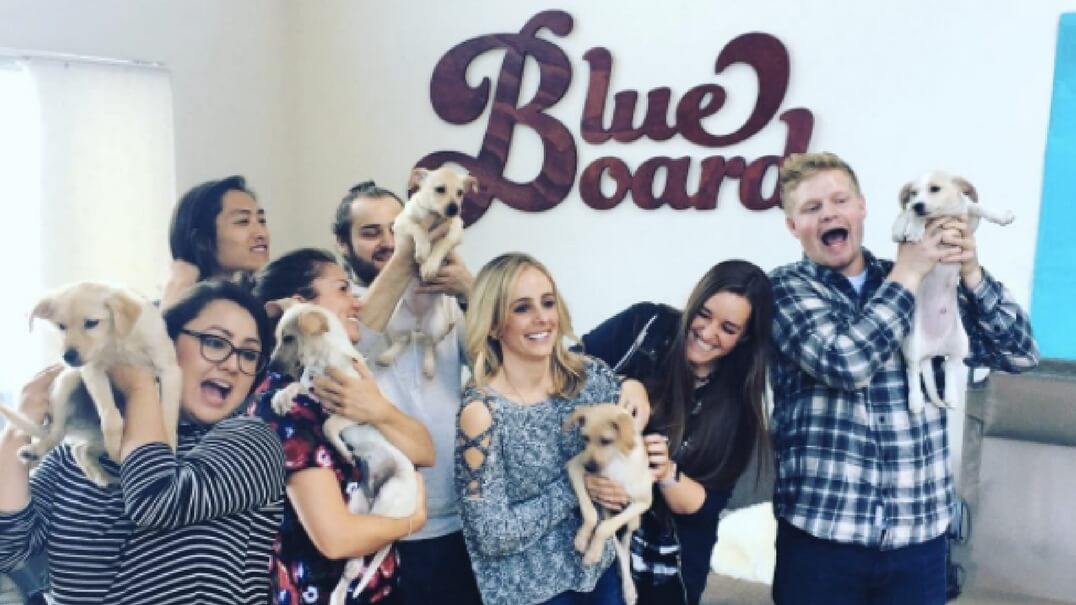 Yoga retreats. A trip to the slopes. Building sandcastles in San Diego with your friends. A room full of puppies. PUPPIES. Sound too good to be true? These are just the regular work days for employees at Blueboard. They've built a product and culture around embracing new, thrilling life experiences and pushing the limits with your team at your side.
Blueboard offers experiential rewards to employers looking to recognize their employees with so much more than just cash or gift cards. They have hundreds of hand-curated reward 'experiences' from kite-surfing lessons to saké tastings to adventure getaways in the Galápagos Islands. A variety of bucket-list opportunities that appeal to anyone on your employee roster, millennial, Gen Xer, or Boomer.
In order to create an exceptional experience, the Blueboard team often tries out activities from vendors to ensure they meet their list of expectations before being formally added to the catalogue. This way, the entire team gets to serve as 'Experience Curators', a full-time role at the company. Trying these activities together helps to bond the team while also testing and gaining first-hand experience for the adventures they offer. Team members take turns planning the monthly events. They've tried mixology courses, archery, and go-karting, and even Brazilian capoeira classes (a dance-inspired martial arts practice). Employees also get together for two retreats a year so the whole team can work together and also have some fun outside their typical office walls.
A family culture
Blueboard fosters a 'family culture'. The office is set up in a workspace zoned for both commercial and residential living , featuring a full kitchen, casual office and lounge areas. Fresh groceries are delivered so employees can take a break to cook together. Morgan Chaney, Blueboard's Head of Marketing, emphasizes this saying, "we really enjoy making lunch together. It's a way to be healthier at work, offers time to mentally unplug ". Last Thanksgiving they decorated the office and had a big potluck spread for everyone to enjoy. This choice of workspace has brought the team together and helped them bond. They're all very supportive of one another and enjoy hanging out outside of work as well.
Employee Recognition is key
While retreats and cooking together are excellent, it's widely known that people consider more than just perks for a fulfilling job. Blueboard knows that among other things, recognizing employees is necessary for their overall satisfaction and has been shown to reduce voluntary turnover. They should know recognition well; it's their core product! "We help our clients reward their top employees, and we also champion recognition amongst our own team," Morgan says. Blueboard celebrates achievements at Monday stand-up meetings through shout-outs. They share thoughtful thank-you letters and make sure to give feedback in real-time, both positive and constructive. They've also recently adopted an additional "Props" tool for recognition and shout-outs over Slack.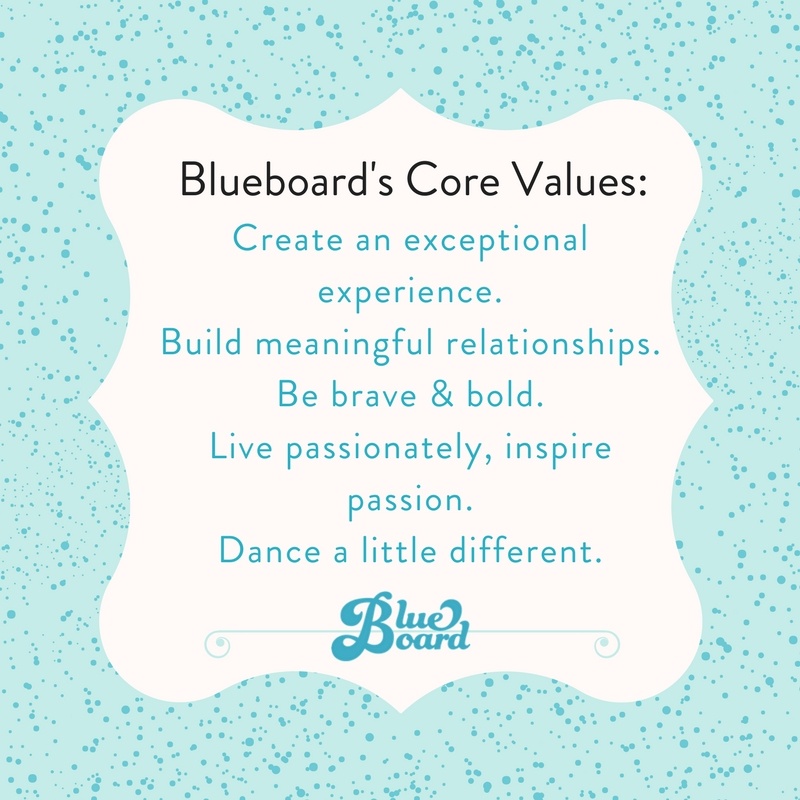 Culture Fit at Blueboard
Blueboard creates an environment that many of us would kill to work for (parties with puppies? Sign me upppp!) But what do they look for in new hires? Passionate, altruistic, goal-oriented, self-motivated, and adventurous people succeed at Blueboard. "We're looking for genuinely good people who shares our values, enjoy working in a fast-paced environment, and have a lot of drive", Morgan said. To make sure they select the best candidates the team conducts a series of group interviews that evaluate the candidate for their role-related skills as well as their culture fit.
Blueboard currently has a team of ~20 but plan to scale their team as fundraising opportunities materialize later this year. As they continue to expand their team (now both local and remote), Morgan knows holding the family feel may be difficult, but says they'll continue to work hard to maintain it. "We all want to work in a place that makes us feel supported and valued, pushes our comfort levels, maintains our values – and the better we hire against these standards, the more we'll be set up for long-term success and scale."