Working Alongside CAA Atlantic: Solving a hard challenge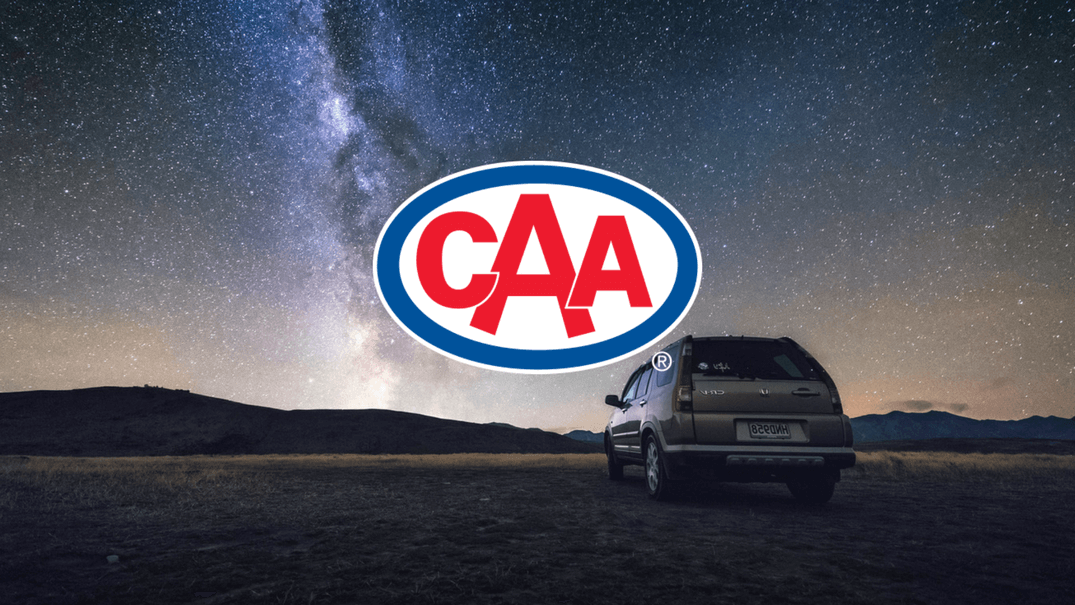 CAA Atlantic reached out to Alongside after five months of trying to fill a much-needed leadership position. Their brand new Director of Digital role was not generating the desired volume of qualified applicants, so they realized they needed some external support. Alongside worked closely with the CAA Atlantic team to develop talent sourcing strategies that accentuated their family-focused culture and generated excitement for the fantastic career opportunities the successful candidate would have.
Alongside helped CAA Atlantic go from promotion to an accepted offer within three weeks.
Here's how we did it:
Understanding the company and their recruitment needs
Alongside developed a plan of action that started with conducting a couple of meetings with CAA Atlantic executives. We wanted to have a full understanding of their recruitment needs, skills required for the position, and company culture. Our first meeting focused on assessing and improving job posting to focus on the specific career growth benefits of the Director of Digital role.
The second meeting was a discussion about what it's like to work for CAA Atlantic. Their employees enjoy a somewhat traditional environment that excels in open communication and empowering work. Giving back is also very important for this not-for-profit organization, as they frequently contribute to local school and health-care related causes. We wanted to highlight these aspects of their company as they are so essential for showing culture fit, which improves employee satisfaction and retention.
Hire Better: Focus on Your Mission, Vision, and Values
Sourcing and managing qualified candidates
We set CAA Atlantic up with an Alongside account to gather, contact, and screen candidates. The Alongside recruiting software would be the central place for all their selection processes. A landing page (website page) was also created to attract candidates and drive them to the job posting. This page outlined the role, company location, and culture.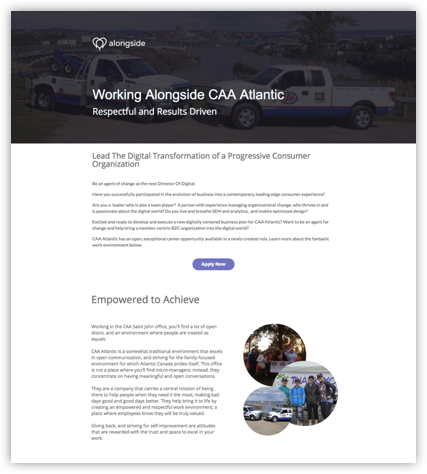 CAA Atlantic landing page to attract job seekers
The Alongside team used several sourcing strategies for CAA Atlantic. We promoted the opportunity to 7 popular and niche job boards including Glassdoor, Indeed, and LinkedIn. Twitter, Facebook, and LinkedIn were the best social media channels for CAA Atlantic's audience, so we implemented organic and paid social media campaigns using the landing page. These campaigns had significant results that exceeded standard performance metrics. For example, one of LinkedIn placements received 300% more clicks on the CAA Atlantic ad than the average Click Through Rate (CTR) of all other ads on the platform.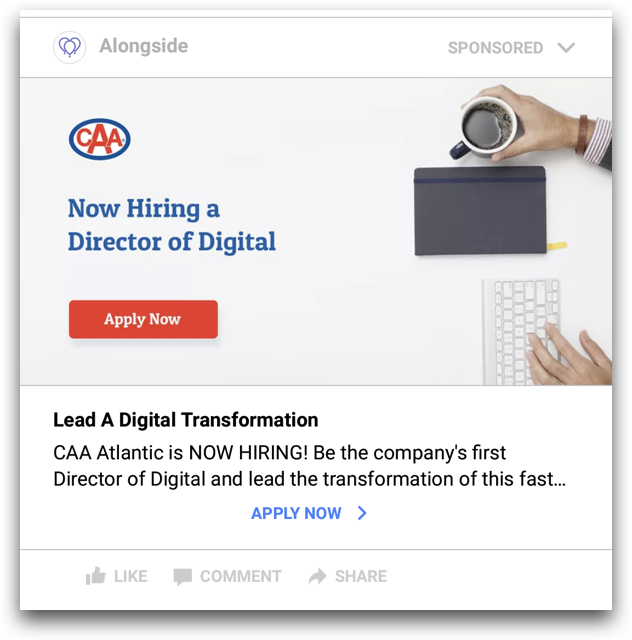 Sponsored social media ad
Hiring the best fit for the role
With Alongside's help, CAA Atlantic was able to go from promotion to accepted offer in three weeks! They received highly qualified local candidates from across Canada and overseas. CAA Atlantic easily prescreened and contacted candidates using the Alongside recruiting software.
The candidate who accepted the position was passively looking for a new challenge and happened to see a social ad for CAA Atlantic's job offer.
Key takeaways
This experience underlines the need for multiple talent sourcing strategies as part of a successful job promotion. It's especially important to attract passive applicants, which actually describes over 75% of professionals. It's also important to highlight company culture to attract great candidates that will be a great fit for your organization.
A guided process with attractive ads, closely-managed social campaigns, and an intuitive recruiting software can help to expedite and streamline hiring. We, the Alongside team are pleased with the results as we continue our commitment to working with employers and job seekers, so they can connect in a meaningful way and do amazing things.
Does your company have similar recruitment challenges? Let's hire some great people together.